Wednesday, August 14, 2019
to
Sunday, August 18, 2019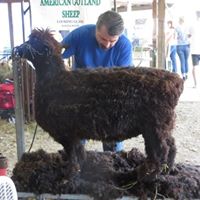 Michigan's Largest Sheep & Wool Festival at Allegan County Fairgrounds
Festival Dates: August 14-18, 2019
Wednesday and Thursday - Preregistered Workshops 9am to 4pm (half day 9am-12pm & 1pm-4pm) (full day (9am to 4pm with a lunch hour)
Friday - Preregistered Workshops 9am to 4pm with all vendors open from 10am to 6pm for shopping
Saturday 9am to 4pm Preregistered Workshops, 10am-6pm All Vendors Open and a Full Festival Schedule
Sunday 10am to 4pm - Full Festival Schedule
FESTIVAL ADMISSION FEES:
CHILDREN UNDER 14 ARE FREE
One Day pass for Friday, Saturday or Sunday $5.00
Weekend Pass for all 3 days $10.00
This is the only cost for attending all events at the festival.
Workshop and competitions entry fees are by the event.
Friday and Saturday workshop participants will receive passes if they have classes that day. All animal show entries, campers over the weekend, vendors, and volunteers will be issued passes.
Visit https://www.michiganfiberfestival.info/ for all of the details!
Allegan County Fairgrounds, Allegan, MI