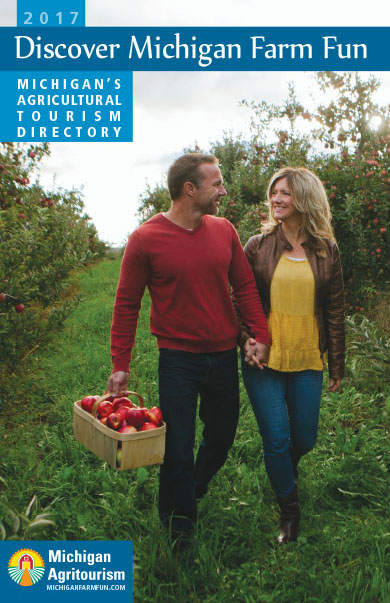 June 9, 2017 (Lansing, Michigan)--The Michigan Agritourism Association released Michigan Farm Fun, its 2017 directory featuring local agricultural products and engaging activities offered in every region of Michigan. This is the 10th annual edition of the popular directory, which includes agritourism destinations, including farm markets, u-pick farms, educational farms and more. The 2017 Directory is produced with support from the Michigan Apple Committee, Farm Bureau Insurance, and Chemical Bank.
"The directory has been a beloved resource as far back as 1979, when it was first published by the Michigan Department of Agriculture," said Janice Benson, executive director of the Michigan Agritourism Association. "Today, it continues to be recognized as the best place to find family-friendly, fun activities on Michigan farms."
Legacy Sponsor Farm Bureau Insurance has supported the directory since the Association's first edition in 2008.
"We're excited about the release of this year's directory," said Farm Bureau Insurance CEO Jim Robinson. "It lists hundreds of farm destinations across Michigan where visitors can enjoy our state's bountiful harvest, including farmers' markets, orchards, cider mills, and many more popular agri-tourism spots. We're proud to support Michigan farmers and the agri-tourism industry."
This year's directory highlights what's unique and special about each region of the state, from an agricultural perspective. "Michigan has a great story to tell," said Benson. "Agriculture has been such a big part of Michigan's history and it's one of the most exciting stories of the future. Many people don't realize what we have here. Michigan is really an agricultural powerhouse."
A responsive website, www.michiganfarmfun.com, compliments the printed directory for easy searching of agritourism destinations across the state and features a trip planning feature for creating an itinerary with detailed directions.
Printed copies are available at Farm Bureau Insurance offices, Chemical Bank locations in Michigan and Indiana, Michigan Welcome Centers, member locations and many Convention and Visitor Bureaus throughout Michigan.
For more information, contact the Michigan Agritourism Association at 616-952-1151 or info@michiganfarmfun.com.
***

The Michigan Agritourism Association is a non-profit association that supports the agritourism industry through promotion, education, advocacy, problem resolution and networking. Its goal is to keep family farms sustainable, support local economic growth and provide rich and unique experiences for visitors to make lasting memories.
Created on Friday, June 9, 2017