The Marquee of Redford Township is a unique indoor open-air venue for Redford's Market at the Marquee. Festivals, art fairs, craft shows and musical entertainment are periodically held. We look forward to seeing you. Come watch us grow!
What you can do here
Farmers Market
Directions
Behind Town Hall, one block south of Five Mile Rd. and Beech Daly intersection in the heart of downtown Redford.
What to look for here
Baked Goods, Blueberries, Honey, Peppers, Tomatoes, Trees & Shrubs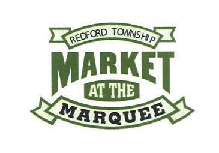 15145 Beech Daly
Redford, MI 48239
Hours: June 21-Oct 18: Sun, 10am-3pm