Critter Barn gives you an up-close and personal experience with farm animals and birds. Children are delighted to hold a chick, feed a goat, or go eye-to-eye with a calf! Learn about the work farmers do to raise food. Help care for the animals. School field trips, seasonal events, summer camps, and classes. Hands-on fun. Real farm experiences. MAEAP Verified.
NOTE: Farm is moving in the near future to 2950 80th Ave., Zeeland.
What you can do here
Barns, Classes, Educational Activities, Picnic Area, Pony Rides, School Tours, Tours
Directions
From Grand Rapids, US-196 to Exit 52 Holland/Adams, go east one mile. From Holland, US-31 take 16th St., go east 3 miles.
What to look for here
Beef, Chicken, Eggs, Gift Items, Lamb, Pork, Rabbits, Turkey, Yarn & Fiber
Tour bus parking available: yes.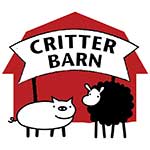 9275 Adams St.
Zeeland, MI 49464
Hours: Open all year: Mon-Sat, 10am-6pm. Check website or call for winter hours.