Nothing beats homegrown strawberries, peaches and apples from this 3rd generation family farm. Fresh-picked and U-Pick strawberries. Vintage and new apple varieties, including Northern Spy, Macintosh and Honeycrisp. Local honey, maple syrup, homegrown squash, sunflower and pumpkin patch. U-Pick apples and peaches weekends during harvest at 740 Dildine Rd. in Ionia. Peaches and plums start early August.
Directions
1.5 miles north of M-21 on North State Rd. (M-66) in Ionia at the corner of Dildine Rd. Via I-96, take Exti 67, follow M-66 north. See website for handy map!
What to look for here
Apples, Maple Syrup, Peaches, Plums, Squash, Strawberries, U-Pick Pumpkins, U-Pick Strawberries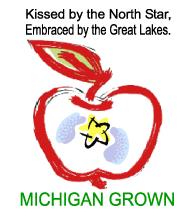 1425 N. State Rd.
Ionia, MI 48846
Hours: Open during harvest season, June & Aug-Oct: Please call for seasonal hours.