Tree-Mendus Fruit Farm is a family operated farm on its 3rd generation, offering U-Pick or We-Pick sweet and tart cherries, peaches, pears, plums, apricots, nectarines, and over 200 varieties of apples. This is the home of the International Cherry Pit Spitting Championship, held the first Saturday of July.
What you can do here
Children's Play Area, Event Facilities, Farm Market, Festivals, Gift Shop, Picnic Area, Roadside Stand, School Tours, Tours, U-Pick, Wagon Rides, Weddings, We-Pick
Directions
Off of I-94, take Watervilet, Exit 41 M-140 south about 12 miles to Eureka Rd. Turn east, we are located about 1 mile on north side of road.
What to look for here
Apple Cider, Apples, Apricots, Cherries, Gift Items, Gourds And Decoratives, Honey, Jams & Jellies, Maple Syrup, Peaches, Pears, Plums, Trees & Shrubs, U-Pick Peaches, U-Pick Apples, U-Pick Cherries
Tour bus parking available: yes.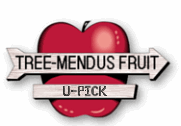 9351 E. Eureka Rd.
Eau Claire, MI 49111
Hours: Jun-Labor Day: Wed-Mon, 10am-6pm, Closed Tues; Labor Day-Oct: Fri-Mon: 10am-6pm